Students:
David Brown

Michael Ruggiero

Christian Zografos (PM)
Advisor: J. Purcell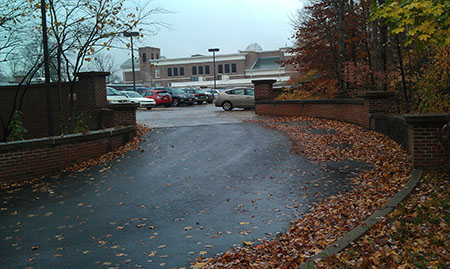 A growing student population and the impending Campus Town project, which will reduce and relocate available parking, have resulted in a shortage of student parking spaces especially near Armstrong Hall. Additionally, the current garage there has a severe drainage problem that causes flooding in the summer and icing in the winter. The objective of this project was to expand and redevelop Armstrong Garage to accommodate the need for increased parking while assessing structural capacity and drainage issues.
To address these issues, a significant amount of information was gathered to determine how the garage should be redeveloped. This included existing traffic data, manual and automatic traffic recorder (ATR) counts, existing plans, and configurations for Armstrong Garage and other garages both on and off campus. A survey was taken to assess the parking needs and desires of the campus community.
After analyzing this information and utilizing various software applications, several alternatives were developed. The preferred alternative, which was the expansion horizontally towards Metzger Drive, was selected based on these needs; feasibility, economy, aesthetics among other criteria. A preliminary design of this alternative was carried out including parking stall configurations, movement of vehicles, drainage, and traffic provisions and a full cost analysis. Also, several innovations and LEED-compliant features were implemented to promote sustainability and maximize ease of use.