Five TCNJ civil engineering students participated in the 2021 American Institute of Steel Construction (AISC) Student Steel Bridge Competition, where their design won first place at the regional level. The team is composed of seniors Andrew Agresto, Matthew Chaber, Steven Hippauf, Hunter Kelly and Sofia Zapata along with their faculty advisor, Dr. Nabil Al-Omaishi.
AISC's Student Steel Bridge Competition challenges students to develop a scale-model steel bridge for a specific scenario. This year, the problem statement required teams to design a structure to support the weight of pedestrians, bicyclists, equestrians, park and emergency vehicles in Katy Trail State Park, Missouri. In addition to supporting the load, concerns such as aesthetics and cost should also be addressed.
The TCNJ team entered the supplemental competition, which allowed them to participate virtually using just a design. They decided to engineer an overhead truss bridge to address the guidelines' heavy emphasis on the minimization of vertical deflection. Their final design was a Pratt truss because of its simple geometry and short time to physically construct. They also chose to utilize tubular cross-sections for each individual bridge member to allow for a "twist-and-lock" connection for the stringers, lateral bracings and sleeve connection.
Our civil engineers won the Metropolitan Region Supplemental Competition, which qualified them to compete at the national level. Although they did not win at nationals, they did earn the highest score for the design process amongst eight other teams that included Oregon Institute of Technology, Michigan Technological Institute and University of California, Berkeley. A big congratulations to Andrew, Matthew, Steven, Hunter, Sofia and Dr. Al-Omaishi!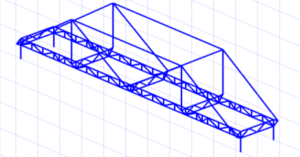 3-D image of the bridge design